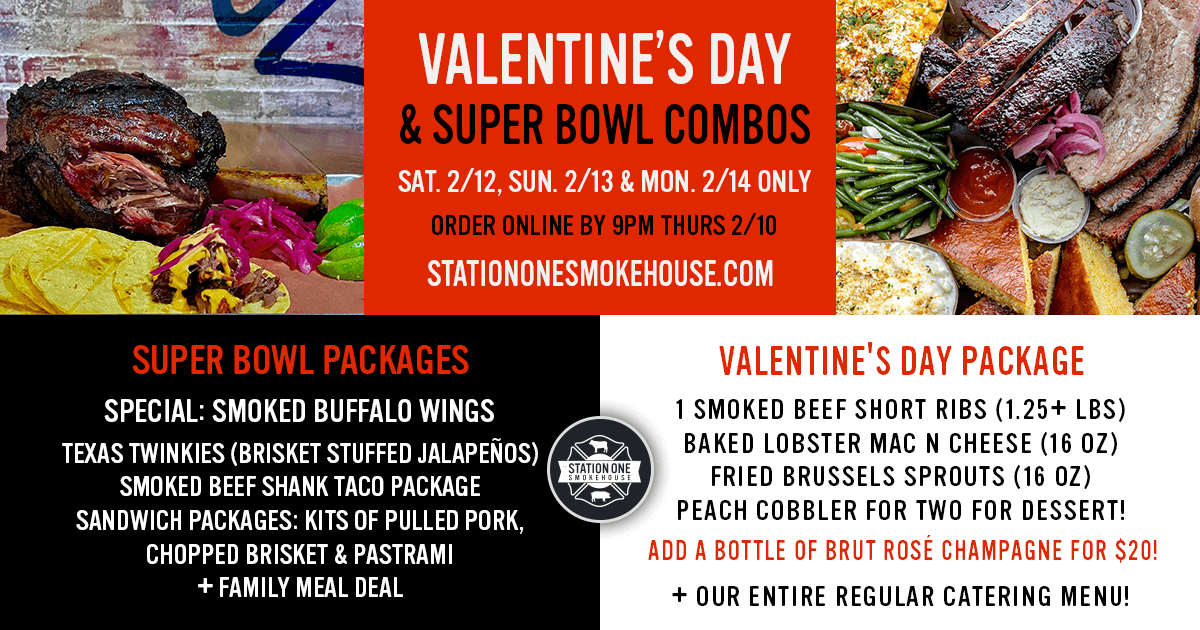 We are now accepting a limited number of pickup catering orders for Super Bowl Sunday and Valentine's Day weekend! Pickup on Saturday 2/12, Sunday 2/13 or Monday 2/14.
Valentine's Day Package for Two $74.99:
1 Smoked Beef Short Ribs (1.25+ lbs)
Baked Lobster Mac n Cheese (16oz)
Fried Brussels Sprouts (16oz)
Peach Cobbler for Two for Dessert!
Add a bottle of Brut Rosé Champagne for $20!
Our special Super Bowl menu includes:
Smoked Buffalo Wings
Texas Twinkie, 1 dozen, $36. Jalapeños stuffed with brisket and cream cheese, wrapped in bacon and smoked.
Our Family Meal Deal
Smoked Beef Shank Taco Package (serves 8-10) $85: Whole smoked beef shank (10lbs raw), 3 dozen tortillas, 1 bottle each of Boerne Texas Hot Sauce Verde and Roja, cotija cheese, pickled red onions, chipotle aioli, and cilantro.
Sandwich Packages (each serves 4. meats served in vacuum-sealed bag w/ reheat instructions):

Pulled Pork Sandwich Kit $29.99 (1.5lbs pulled pork, 4 buns, 16 oz coleslaw, bbq sauces)
Chopped Brisket Sandwich Kit $34.99 ( 1.5lbs chopped brisket. 4 buns. 16 oz pickles and bbq sauces)
Pastrami Sandwich Kit $34.99 (1.5lbs pastrami, 4 buns, 16 oz pickles, bbq sauce or mustard chosen at pickup)
….Plus our entire regular catering menu!
*Reheating instructions for all sandwich packs- drop meat in vacuum sealed bag into simmering water appx 20 minutes to heat. Remove package from water, open and serve!
Order cutoff is 9pm on Thursday 2/10. All pickups will be at our carryout window. 
$50 minimum spend. Pickup slots on on Saturday 2/12 and Sunday 2/13 from 11am to 8pm and Monday 2/14 from 4pm to 7pm. 6 pickups per 15 minutes.