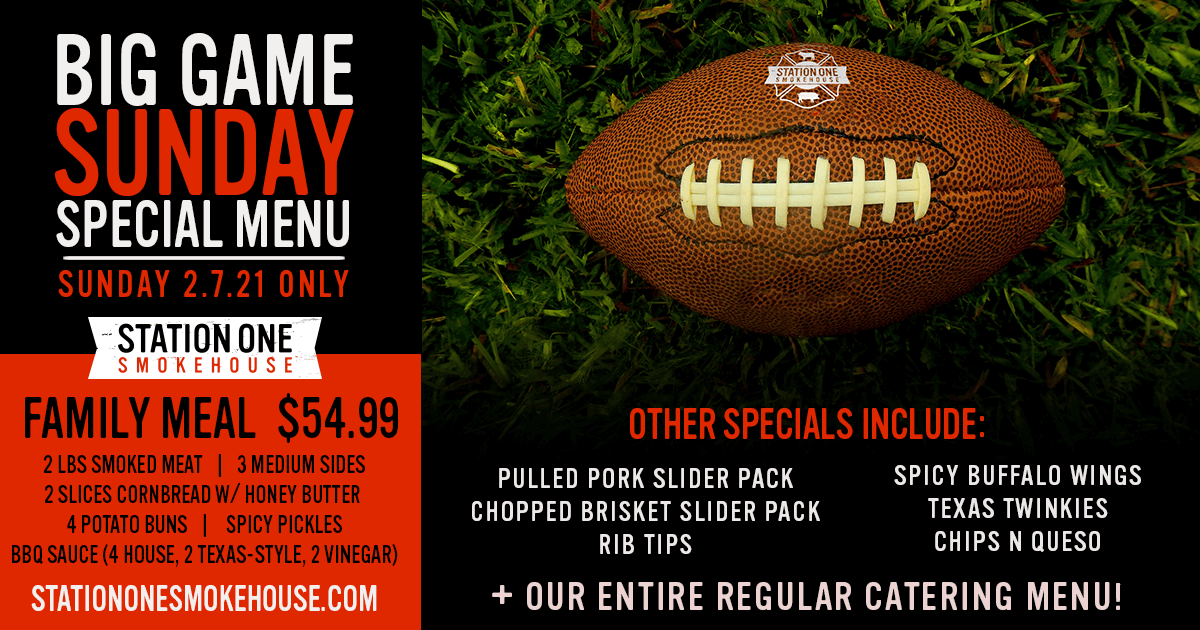 We are now accepting a limited number of orders for Superbowl Sunday 2021.
Minimum total order of $50. Cutoff for ordering will be Saturday 2/6 at 9pm.
Slider Packs:
Pulled Pork $29.99 includes: 1.5 lb pulled pork, dozen slider buns, coleslaw and 8 oz house sauce
Chopped brisket $34.99 includes 1.5 lb chopped brisket, dozen slider buns, spicy pickles and 8 oz house sauce
Family Meal Deal (Feeds 4 Adults) $54.99:
2 LBS Smoked Meat ($3 upcharge on brisket, pastrami)
3 Medium Sides
2 Slices Cornbread w/ Honey Butter (each slice feeds 2)
4 Potato Buns
BBQ Sauce (4 house, 2 Texas-style, 2 vinegar)
Spicy Pickles
Texas Twinkies $3 each
Jalapeños stuffed with brisket and cream cheese, wrapped in house-made bacon and smoked
Chips n Queso $15
Large bag of chips with 16oz queso
Smoked Buffalo Wings (Dozen) $15.99
Coated with homemade smoked beef tallow buffalo sauce, served with carrots, celery sticks, and choice of bleu cheese or ranch.
-Need option for bleu cheese or ranch
+ Our entire regular catering menu!